An Orphan Walks Into a Bar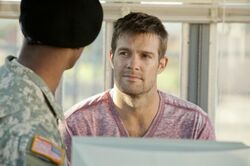 | | |
| --- | --- |
| Broadcast Date | January 12, 2012 |
Chronological Information
| | |
| --- | --- |
| Previous Story | Bones, Season 6 Ep "The Finder" |
| Next Story | Bullets |
Shortly after Walter recovers a rock legend's guitar, a teenager comes to Leo's bar. He wants Walter to find his father, an Air Force colonel whose plane disappeared while he was on a secret mission. Back at the bar, Leo keeps a weather eye on his charge Willa, newly probated.
Cooper Allison - Brett Davern
Lt. Sam Royce - Eltony Williams
Jaime Murray - Amadea Denaris
John Fogerty's Manager - Jim Cody Williams
John Fogerty - John Fogerty
Lt. Col. Nick Allison - Roy Werner
Chris Jellicoe - Rus Blackwell
NTSB Investigator - Patrick Robert Smith
Thug #1 - Michael Gambino
Burly Man (Saul Scully) - Richard Augustine
Thug #2 - Eric Thomas Wilson
Trumpet Instructor - Tim Goodwin
DEA Agent - Tom Stedham
Tip It Over Written by 'Barrie Cadogan', 'Lewis Wharton' & 'Virgil Howe' Performed by 'Little Barrie'
John Fogerty's Manager: Walter, is it true? You found it?
Walter Sherman: Yeah, I always find what I'm looking for. It's a fact of nature, like, uh, the world turning and internet porn.
Community content is available under
CC-BY-SA
unless otherwise noted.