Bullets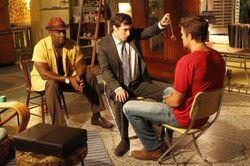 | | |
| --- | --- |
| Broadcast Date | January 19, 2012 |
Writer
Matt MacLeod
Director
Terrence O'Hara
Chronological Information
A former prison warden enlists the help of Walter to find a bullet that could prove the innocence of a death row inmate just days before his execution. Meanwhile, FBI psychologist - and Jeffersonian team member - Dr. Lance Sweets evaluates Walter's competency to consult on federal cases. In the process, Sweets begins to understand Walter's intangible gift and motivation to find the unfindable. Also, Willa attends a beach party and gets herself into trouble.
Lance Sweets - John Francis Daley
Eddie Ross - Mitch Pileggi
Henry Barns - Ryan Cutrona
Bronski - Greg Evigan
Chatney Dubois - Valarie Pettiford
Warden Nick Larsen - Chris Ellis
Kevin Montgomery - Brandon Jones
Young Eddie Ross - Blake Shields
Young Glen Hogan - James Harvey Ward
Fontana - Mario Van Peebles
Carmela - Katie Garfield
Interrogator - Conrad Allan
Dark Figure - Eric Norris
Walter is put under hypnosis by Dr. Lance Sweets, but somehow remains in control, probably due to his brain injury.
Community content is available under
CC-BY-SA
unless otherwise noted.