Life After Death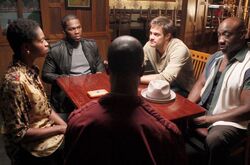 | | |
| --- | --- |
| Broadcast Date | April 6, 2012 |
Chronological Information
When new tracks are leaked from late rapper J-Stryke, music mogul Big Glade and his business savvy lawyer, Leo's former love interest, ask Walter to find the source of the illegally released music. Walter and Leo locate the DJ streaming the tracks with the help of Willa's online hacking expertise. But as Walter pieces together the events that led to J-Stryke's death, he uncovers a more complicated history. Meanwhile, Big Glade's lawyer and Leo rekindle their romance.
Athena Brookes - Salli Richardson-Whitfield
Trey - Arjay Smith
Ms. Estelle - Adina Porter
DJ W-Squared - Jeremy Guskin
Big Glade - Curtis '50 Cent' Jackson
Lil Trey - Christian Dorey
Lil J-Stryke - Niqoles Heard-Goodwin
J-Stryke - Casey Washington
Young Trey - Jacob Latimore
Community content is available under
CC-BY-SA
unless otherwise noted.